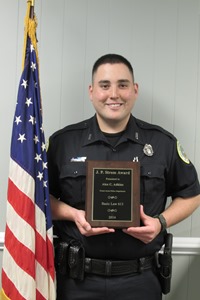 Forest Acres Police Officer Alex C. Adkins was  recently awarded the coveted J. P. Strom Award for having the highest academic average in his class at the South Carolina Criminal Justice Academy. 
Officer Adkins graduated on March 28, 2014 after completing 12 weeks of police training. He was a student in Basic Law Enforcement Class 613.
A native South Carolinian, Officer Adkins graduated in 2012 from the University of South Carolina with a BSN degree. He began work at the Forest Acres Police Department in August 2013.
"We're happy to have Officer Adkins join our force," said Police Chief Gene Sealy. "The J.P. Strom award is a very high honor, and we're proud of Alex's performance at the Academy."