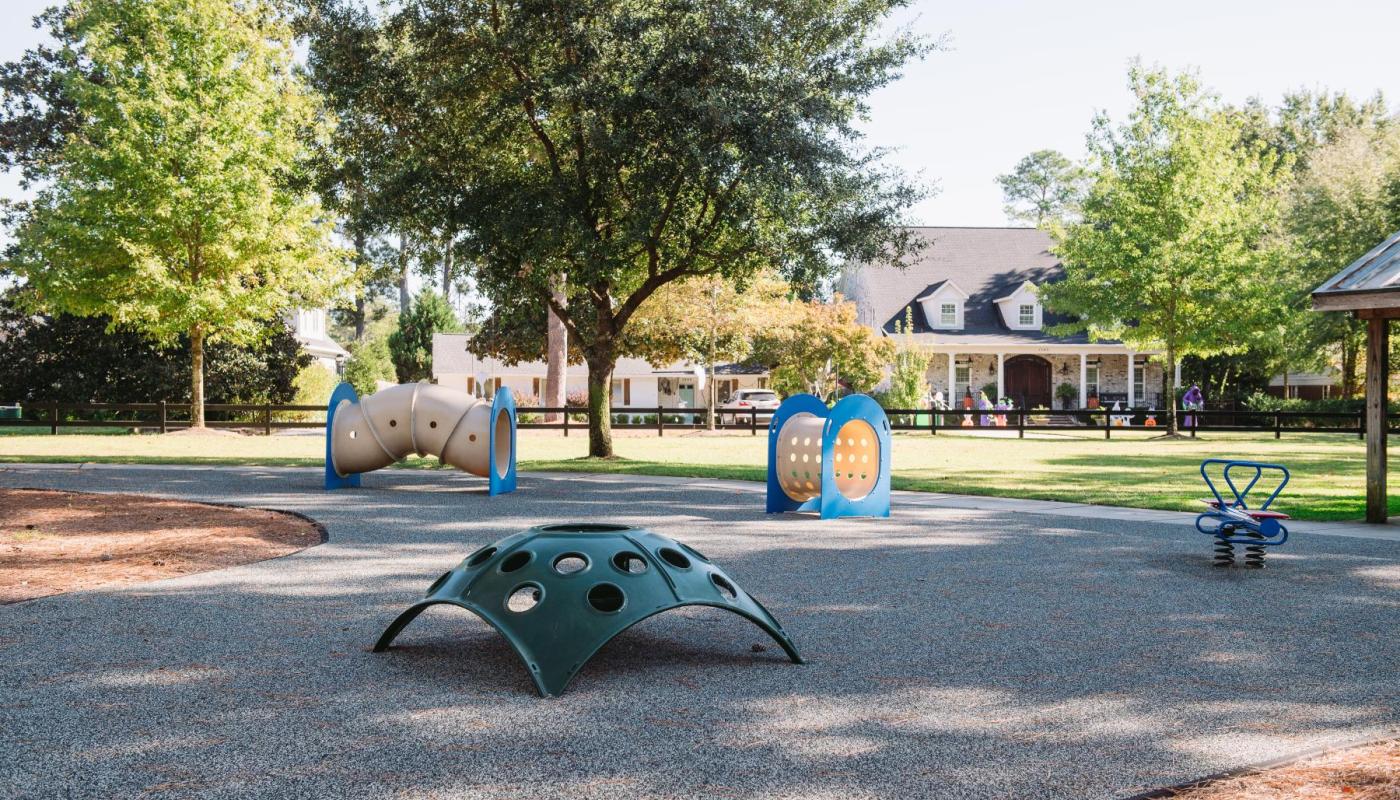 Neighborhood Parks
Forest Acres is known for having some of the best parks in the midlands. Citadel Park, Idalia Park, and Pinetree Park are all neighborhood parks found tucked away along tree-lined residential streets in southern Forest Acres. They all feature open areas for picnicking or playing. 
Citadel Park and Idalia Park are also equipped with playground activities for children of all ages and comfortable seating for adults. 
Pinetree Park is an open, peaceful green space with swings and picnic tables. It is ideal for children or pets to run and play uninterrupted. Or for adults to enjoy a spot to read and relax.
Quinine Hill Park features a walking trail with a forgiving rubber surface for easy walking or jogging. It is located near the intersection of Forest Drive and Beltline Boulevard. Quinine Hill Park also has covered picnic tables for small gatherings or events and quiet seating for lunch-hour getaways or afternoon reading.
Despite being limited in size to roughly five square miles, the city is currently in the process of adding two new parks to its prestigious portfolio. Gills Creek Memorial Park is under construction along Gills Creek and Forest Lake Place Drive. It is slated to open fall/winter 2023.
The park will highlight the city's urban waterway as well as provide an event space for food trucks, a small performance stage, a splash pad and a fallen police officer memorial in honor of two Forest Acres Police Officers shot and killed in the line of duty: Richey O'Brian Finch (1974) and Greg Alia (2015).
In the fall of 2022, the city announced it had purchased nearly six acres of land at the Richland Mall site located at the corner of Forest Drive and Beltline Boulevard, a gateway into Forest Acres. The mall itself was sold to Southeastern Development with plans to level the structure and build a mixed-use commercial and residential property with a five to ten year completion date.
In conjunction, the city will build its largest park along the back edge near the creek. That park's plans and name are still in the early stages of development but the goal is a large greenspace and amphitheater to host large city events such as Sweet Seasons and community concerts like it has in the past.
Citadel Park
4941 Citadel Avenue
Columbia, SC 29206
Gills Creek Memorial Park
24 Forest Lake Place 
*Under Construction* and slated to open fall/winter 2023
Idalia Park
1343 Idalia Drive
Columbia, SC 29206
Former Richland Mall Park 
3400 Forest Drive
*In Development* and slated to be completed in 2027/2028
Pine Tree Park
4626 Winthrop Avenue
Columbia, SC 29206
Quinine Hill Park
3610 Valley Road
Columbia, SC 29206