Forest Acres Main Street Program: Covenant Crossing
Welcome to the Forest Acres Main Street Program (FAMSP) page, sponsored by the City of Forest Acres and supported by membership in the Main Street South Carolina the Municipal Association of South Carolina. 
MAIN STREET PARTNERSHIP
Main Street SC is the designated state Main Street coordinating program of the National Main Street Center. As the state partner of the Main Street Center, they provide participating revitalization organizations access to the training, tools, information, and networking needed to be successful. Structured as a technical assistance program of the Municipal Association of SC, Main Street SC provides downtown and neighborhood commercial district organizations professional advice and guidance in the use of the proven Main Street four-point Approach™ to start or strengthen their revitalization efforts.
HOW THE MAIN STREET APPROACH WORKS
The four-point methodology works to create a holistic revitalization process for the community: identifying niche markets, creating a cohesive visual identity unique to the community, and nurturing a cultural balance associated with the community's location and way of life. The Main Street Approach builds on existing resources and fosters improved community leadership and support for the central business district for long term benefits.
Organization builds consensus and cooperation between all groups that play a role in the downtown.
Design improves the downtown's physical elements while preserving & enhancing its authenticity & sense of place.
Promotion markets the downtown's unique characteristics to shoppers, investors, new businesses, tourists and residents.
Economic Vitality strengthens and diversifies the existing economic base of the downtown
FOREST ACRES MAIN STREET PROGRAM'S TARGET AREA(S)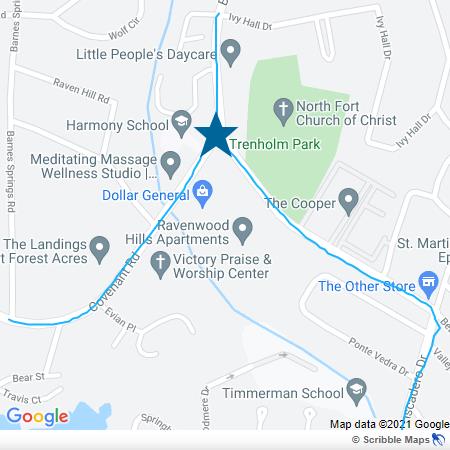 Following the nationally recognized Main Street four-point approach as described above, the sole purpose of the FAMSP is to collectively identify a brand identity for the targeted area by focusing on what is needed/wanted from businesses, residents, and local community stakeholders.
In order to be considered a main street, it must have 5 primary elements including: Government buildings (Forest Acres Public Works Facility, Trenholm Parks & Rec Center), Churches, Schools (Harmony School, Little People, Timmerman School), Retail business (Super Starr Pets, Dollar General), Restaurants (the Other Store), and Nonprofits (The Therapy Place) – this area checks all of those boxes in multiple areas as you can see with the places highlighted in parentheses above!  Although we are a non-traditional main street per se, this area qualifies as a main street neighborhood commercial district in need of revitalization and also has nearly 20 small businesses in the area ranging from barber shops/hair salons, to massage specialists, and physical therapy.
The primary goal of the FAMSP is to establish a centralized identity, where one does not currently exist, in order to drive economic opportunity, growth, vitality, brand awareness, and beautification to the area.
(From Barnes Springs/Covenant Road juncture to the primary intersection at Bethel Church Road/Covenant Road, from Ivy Hall Drive to Astascadero Road/Springhill Road). 
We are proud to have accomplished part of our goal in creating an identity for the area thanks to the input by the city council, local businesses, and community residents.  At the December 14, 2022 Forest Acres City Council meeting, the results of the November FAMSP public survey results were recognized, and city council unanimously approved the name Covenant Crossing.
INVESTING IN THE FAMSP & THE AREA NOW KNOWN AS COVENANT CROSSING WILL ULTIMATELY:
Create jobs – 

A revitalized district commercial districts attracts new industry and strengthens service and retail job markets.

Save tax dollars – 

Revitalization stabilizes and improves a downtown's tax base while also protecting existing investments.

Preserve a community's historic resources – 

In an economically healthy commercial district, property owners maintain their historic past and preserve an important part of their community's heritage and identity.

Build community pride – The National Main Street program elements provide a public space for community members to come together, create new partnerships and celebrate their downtown.
FOREST ACRES IS RICH IN HISTORY
Did you know the area(s) above used to be the central hub of Forest Acres?  In fact, the building where the Harmony School currently resides on Covenant Road used to be City Hall prior to moving to its current location on Trenholm Road, and this same building also later housed the Timmerman School's first location.  When City Hall and the Piggly Wiggly (now the Dollar General) moved away, this area lost attention. The FAMSP aims to make needed improvements for the betterment of those who live, work and do business in the community.  This initiative is in no way looking to compete with Forest Drive.  Rather, the FAMSP is a revitalization effort to bring attention and economic development to the area.  Would you like to see sidewalks and cross walks to make foot traffic safer and easier?  How about vacant buildings being occupied by restaurants and retail that you might frequent?  Maybe you'd like to see better lighting, landscaping and other beautification elements in the area?
FAMSP covenant crossing LOCAL BUSINESS DISTRICT
THE OTHER STORE
JAMESTOWNE SC EQUITIES, LLC DBA SQUARE - COOPER FOREST ACRES 
RAVENWOOD 2017, LLC
SUBLIMEHAIR SALON
SUPER STARR PETS
DCP FOOD MART
LITTLE PEOPLE'S LEANRING CENTER
THE LANDINGS AT FOREST ACRES, LLC
MAIN ATTRACTION BARBER & BEAUTY
VERONICA BRANCH
THE THERAPY PLACE, INC.
MASSAGE STATION - MESSCINA SCOTT/INFINITE MASSAGE
MASSAGE STATION LLC
MEDITATING MASSAGE LLC
SIMPLY KOOL HANDS MASSAGE/BODYWORK
CUT ABOVE HAIR STYLING
DOLLAR GENERAL STORE #10524
ROYSON'S K&A AUTOMOTIVE
TIMMERMAN SCHOOL
AN INVITATION TO PRAYER MINISTRIES
HARMONY SCHOOL
VICTORY PRAISE & WORSHIP CENTER
BEAUTY & BEYOND HAIR SALON
HOW YOU CAN SUPPORT THE FAMSP covenant crossing
There are several ways you can support this neighborhood commercial district revitalization effort including:
(1) Stay Informed
Attend our monthly public meeting at the Trenholm Recreation Center

Provided feedback and participate in surveys about the project when asked

Follow and Share information on social media (Facebook and Instagram): @forestacresmainstreetprogram, @cityofforestacres, @forestacrespolice

Visit the FAMSP page on the City of Forest Acres website
(2) Shop Local (#shoplocal)
Make it a habit to shop local whenever possible. Get to know the folks who have businesses in the area and be intentional about where you do business.

Spread the word to your friends, neighbors and co-workers about these businesses and the importance to supporting the local economy
(3) Volunteer
As we move forward into the next phase of the program, the FAMSP will need the help of volunteers to assist with projects in the area – Sign up to help!
(4): Contact Us