Mayor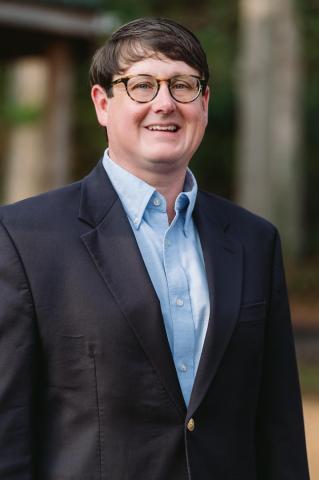 Mayor Thomas Andrews was sworn in July 3, 2023. Previously, he served as a councilman and Mayor Pro Tempore. 
When elected to city council in 2019, Tom Andrews was one of two fresh new faces to the city council in nearly 15 years. Despite being in a busy phase of life—raising three young children with his wife and running his own law practice—he knew he still wanted to do more. So, Andrews laced up his tennis shoes and hit the neighborhoods, knocking on more than 1500 doors after work and on weekends.
"I thought there was a lot of growth in the city, but also a changing demographic trending younger with an increasing number of young families moving in. I was concerned about balancing growth with development opportunities.  I wanted to make sure we provided good serves and great green spaces for young families. I also wanted to focus on the safety of the area, working with the police department to make sure speeding, especially near our community schools, was prioritized."
The message resonated with the voters. He now posts monthly city updates on Facebook and Nextdoor and sends a monthly email opening a communication line with residents and city leaders to encourage more community involvement.  "A big part of my job is listening.  My monthly communication not only allows me to be transparent about how I vote and what is happening in the city, but gives a space for residents to discuss their own ideas and concerns."
Raised in Hanahan, South Carolina, Andrews moved to Columbia to attend the University of South Carolina for both his undergraduate studies and law school. After working in a larger firm, Tom realized there was an underserved demographic: our nations veterans needing help in attaining their VA benefits. It is now his primary practice, making him one of the few attorneys in the state helping our veterans obtain their VA benefits.
While building his practice, Tom bought a home in Forest Acres as a bachelor, because he liked the proximity to downtown Columbia and found the area's strong school system appealing. That selling point often got a laugh out of his wife, Kim, as they were dating.  But in the end, she taught special education for four years at Satchel Ford Elementary, the eldest two Andrews children now are students there, and the family still lives in the same house he bought more than 15 years ago.
"We think the world of Satchel Ford, the teachers, and the relationships our children and we have made.  We see the same people at school, church, and youth sporting events. There is such a great sense of community and walkability, and we want to keep nurturing that. You're part of the midlands and what that offers, but you also have a small-town community that exists that is really special in its own right. Forest Acres has always had an identity complex, a little brother complex, and now I want to help the city forge our own identity."
On the weekends you'll often find the family at Citadel Park, grabbing a bite at Groucho's Deli or Casa Linda, —unless their daughter gets her way for a "fancy dinner" at Pasta Fresca.
"There is a lot of excitement and energy toward creating a new vision for the next 20 years. We've got a great base of good schools and housing, fine services and parks, a central location, and diverse shopping and dining. I would like to see more arts and social opportunities such as the Town Theater's 'Picnic in the Park' and the pop-up Bierkeller this year. These microevents create space where community is made. People have space to gather, talk, and experience their city together—and I think that's what creates community."